Oprah's birthday band? Snatam Kaur.

posted by Daniel on March 14th, 2012
Oprah Winfrey is, according to some assessments, the most influential woman in the world. She is also, it turns out, a lover of mantra-music. This year, for the first time, we are seeing her private love of kirtan begin to appear in her public discourse.
Last month I saw a very sweet photo of Oprah visiting spiritual teacher Ram Dass in Maui. It piqued my interest, Ram Dass being a great translator of Bhakti for a wider audience. In 2008, Oprah had made 'mindfulness' a household notion by bringing spiritual teacher Eckhart Tolle into the limelight for a series of live webinars, essentially teaching meditation to millions.
Would she, I wondered, bring other spiritual topics - like devotion, spiritual love, even mantras - into the discourse?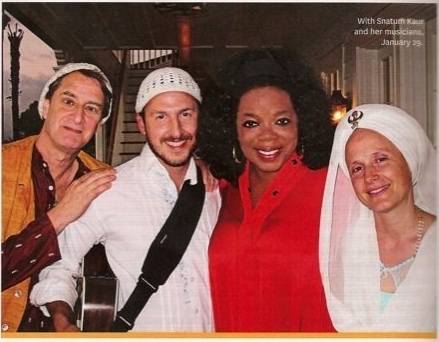 Interestingly, at her recent birthday party, Oprah gushed to her friends about her love of Snatam Kaur's devotional mantra music. They took note, and by some miracle were able to bring Snatam Kaur to Oprah's house the very next day for a private concert. Here's a link to the full article.
---